By Mary Lendzion
Twenty-one years ago, Jim Netherland was racing a 1968 Buick Skylark in NMCA Detroit TrueTrac Nostalgia Muscle Car when he decided that he wanted to move to NMCA Quick Fuel Technology Nostalgia Super Stock.
Because his car was a year newer than what was allowed in the category, he sold it and purchased a car that was a year older, a 1967 Buick GS400, from an estate sale not far from his home in Columbia, Tennessee, in December of 2000.
The one-owner car was a clean classic powered by a 400 cubic-inch Buick engine. It had a stock interior, as well as power steering and air-conditioning, but by January of 2001, Netherland was removing the power steering and air-conditioning, back-halving the car, replacing its stock suspension with a four-link and coilover set-up and having a chrome moly cage installed into it by a shop that has since closed.
He also replaced the stock driver's seat with a racing seat, but didn't touch the stock dash or carpeting. Then, he swapped the stock engine with a 455 cubic-inch Buick engine built by Charlie Evans of Evans Racing Engines in Kentucky. By July of that year, Netherland had introduced himself and his full-of-character car to NMCA Quick Fuel Technology Nostalgia Super Stock and its 11.00 index.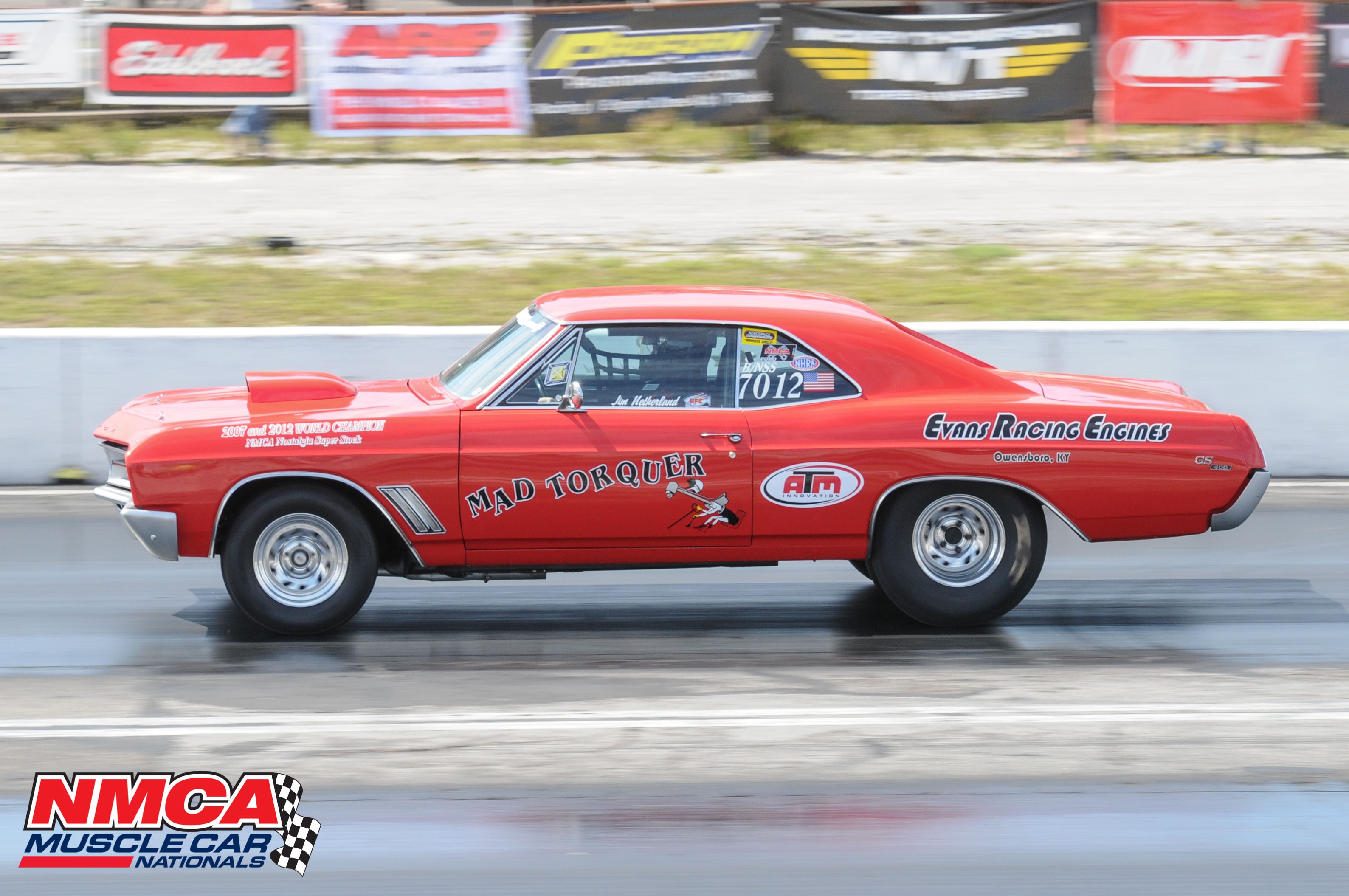 "The car did very well right away," said Netherland, who has since named it Mad Torquer in recognition of Buick's reputation for building engines with a lot of torque. "It required very little chassis work."
In the years that followed, Netherland continued to rely on various Buick engines, and picked up enough to begin competing in the category's 10.75 and 10.50 indexes. He even earned championships in the category in 2007 and 2012.
After missing a few events, Netherland wrapped up a seventeenth place finish in points last year, and turned his focus to this year by changing the Afco coilover springs under his car and rescaling it.
"I wanted to fine-tune the suspension," said Netherland, whose car rolls on Afco suspension components and stops with Aerospace Components brakes.
He also purchased a carburetor by ATM Innovation, and will store his reliable Edelbrock and Rochester carburetors for future use.
"ATM Innovation was very helpful in selecting the new carburetor," said Netherland. "As soon as I had it, I took my engine to Oakley Motorsports in Kentucky, and they put it on the dyno and we picked up horsepower."
He made one test pass at Beech Bend Raceway in Bowling Green, Kentucky, before heading to the well-attended 18th Annual NMCA Muscle Car Mayhem presented by Holbrook Racing Engines in early March at Bradenton Motorsports Park in Florida, where he referenced the new carburetor and tuning session at Oakley Motorsports as the reason he was able to enter Quick Fuel Technology Nostalgia Super Stock's quicker 10.25 index.
"I felt really good about the car going into the race in Florida," said Netherland. "Once I got there, I was either a little too fast or a little too slow in the qualifying runs, so I made changes to the weight bars until I got to where I needed to be."
After posting a 10.33 on his 10.25 index to qualify in the sixteenth spot, he got past the first four rounds of eliminations before lining up alongside Brent Wheeler in the final round of eliminations, and after Wheeler turned on the red light, Netherland stayed in the throttle to trap his quickest pass of the weekend, a 10.13, and to earn a trip to the Aerospace Components Winner's Circle, where he was joined by his wife and crew chief Cindy Netherland, and his stepdaughter, Rebecca Stafford. The feat was made even more memorable by the fact that it was Netherland's first win at the annual event in Florida.
"Whenever the car goes in the trailer and I leave for the race, my hope is that I'll win the race," said Netherland. "With the tough competition, that's not always the case, so I'm glad that it was this time."
Upon returning home to Tennessee, Netherland performed a compression test on his engine and made sure all of the nuts and bolts on his car are tight in preparation for the Scoggin-Dickey Parts Center NMRA/NMCA Power Festival presented by HPJ Performance, May 28-31, at World Wide Technology Raceway in Madison, Illinois.
"I'm ready to race," said Netherland, who's currently leading Quick Fuel Technology Nostalgia Super Stock points.