ATM Creates Some Vintage Speed
Prepping Holley 94s for Vintage Modified Racing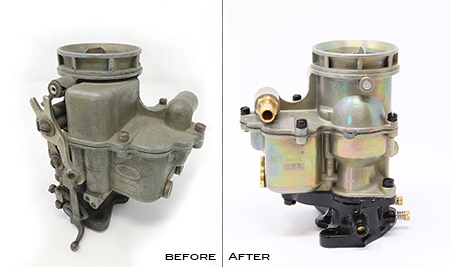 ATM Innovation's primary business is building racing carburetors for drag and circle track racers. It has a couple of separate service departments – a Custom Shop that modifies carburetors for specific applications, and it's Resto Shop that does complete restorations on vintage and collector car carburetors. But every so often, a customer requires the combined forces of both services.
Such was the case of a Flathead Ford Vintage Modified circle track racer (Racer X will remain nameless for obvious reasons), who wanted to optimize a pair of Holley 94 2-barrel carbs for his '40 Ford racer. The rules are very stringent in the carburetor and manifold areas, but quite open with virtually no restrictions on camshaft timing or displacement. The allowable modifications to the carburetor are choke removal and jet size changes only. Racer X sent two 80-year-old Holley 94s to ATM with the instructions to restore one of the carbs to original specs and to "optimize" the other staying within the spirit of the rules.
ATM was up to the task, and then some. The restored Holley was disassembled and the 80 years of grunge and corrosion were cleaned off before the bodies and covers were tumbled and cross-buffed to improve the surface finish and final appearance before it was re-coated with zinc dichromate (re-colored the way it was new). All of the small parts like the brass items were polished and the metal linkage and levers were polished and re-plated to original specifications. For a lasting contrast the throttle body was black powder coated. Finally, it was totally rebuilt with a new carb kit and all adjustments like float level, accelerator pump and throttle blade settings were precisely made. All of the small hardware was replaced with the correct hardware including black oxide-coated and stainless steel fasteners. As you can see in the "before" and "after" photos the transformation is stunning – much like you would see on a concourse engine restoration at a car show.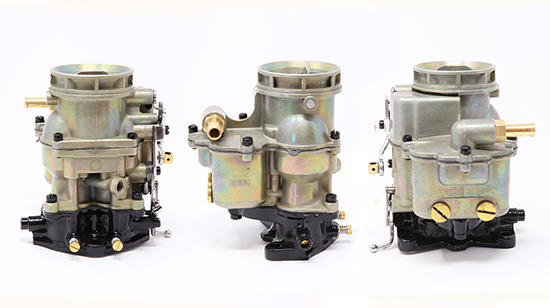 ATM restoration is flawless with the carb body tumbled and cross-buff, re-colored and outfitted with correctly replated, and where possible, new hardware.
Since both carburetors will be run on the racecar from time-to-time, a couple of unseen internal modifications were made to both carbs. Just like the modern 4150™ and 4500™ 4-barrels these carbs have power valves used for transition fuel enrichment and they operate off of manifold vacuum. Any time you introduce a race cam into the picture you reduce manifold vacuum and the power valve can stay open all of the time, even at idle. That's why you hear some racecars "loading up" in the pits. Racers with modern modular-type carburetors have the option to install lower vacuum power valves or simply block the power valve completely, then re-jetting the main circuit to compensate. Since adjustable power valves are not available for these early carbs, ATM simply blocked them and increased the main jet size to compensate. ATM also slightly drilled out the accelerator pump squirters to help add fuel for throttle transition. After these photos were taken, the choke shafts and blades were removed to reduce the restriction they cause in the inlet area of the carburetor.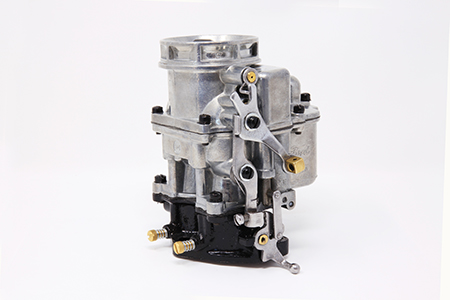 ATM left the "optimized" Holley 94 in its buffed, raw uncolored condition to show what can be requested if you want to deviate from fully restored.
The ATM "optimized" vintage Holley 94 carb is distinguished by the shiny finish without zinc dichromate coloring. Here ATM employed many of the features it uses in building its current race carbs. The main body venturi and inlet throat area were ported and polished to increase airflow. The casting parting lines were smoothed and polished. The idle feed on the booster (brass tube sticking down) was slightly enlarged as was the accelerator pump squirter. And as we mentioned earlier, the main jets were enlarged for racing purposes and to compensate for the blocked power valves. If the "stock appearing" rules weren't so restrictive you can be sure the modifications would have been much more aggressive.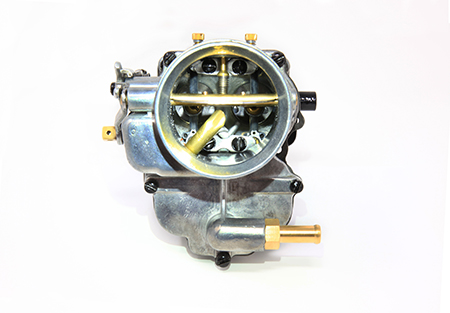 Much of the precise recalibration occurs here with jet size changes, blocked power valves, increased squirter size and increased air bleed size.
Like the restored Holley 94, the slightly modified version was tumbled and cross-buffed to a high shine, all metal and brass parts refurbished and a new rebuild kit and hardware were use during the precision assembly. The throttle body was powder coated and it's base ground perfectly flat.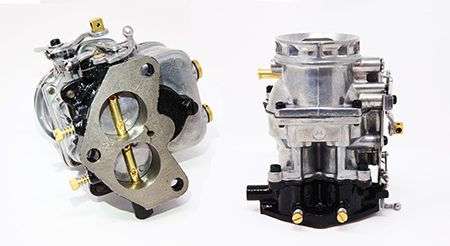 Throttle plate alignment is critical to factors like idle quality. Baseplate was ground flat and black powder coated for a nice contrast to the carb body finishes.
So if you have that unicorn numbers-matching Q-jet for your Ram Air IV GTO, or an early 1900s carb for your brass-era car, ATM can be entrusted to take the upmost care in making your gas mixer better than new!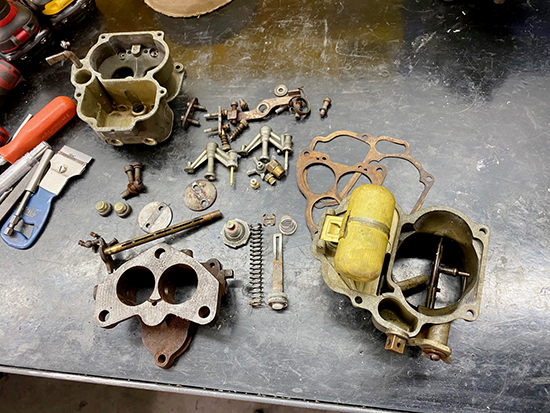 Even the earliest carburetors are very complicated. ATM totally strips down the carb and preps everything for a precision reassembly.